Katharina during her internship in San Francisco!
"San Francisco is multi-cultural – in the morning you walk through Chinatown, at noon through Japantown and the afternoon you spend in Latin-American embossed part of the city, called Mission District."
Adventure

Internship Abroad

Studying Abroad

Living Abroad

Working Abroad

North America

United States

San Francisco
to blogs
Hey! Who are you and where are you from? Where do you study/live/work?
Hey guys! My name is Katharina, I'm 21 years old and from Salzburg in Austria. I study Innovation and Management in Tourism and this summer I work as an intern at an eventmanagement company in San Francisco.
What was the first thing you thought when you arrived in San Francisco?
After I got into the train from the Airport to Downtown San Francisco, I finally realized were I will spend my next 3 months. I looked through the train window and saw the sunset over the ocean and the buildings from Downtown SF slowly appearing in front of me. – WOW!
What was the most shocking difference between a city in Austria and San Franciso?
San Franciso is one of the most expensive cities in the U.S. and the rent prices are not comprisable with any other city in Austria. Therefore, many people cannot afford to rent a flat or even a room and have to sleep on the street. If you walk up the Market Street, the main street which leads nearly through the whole city, you will see many people sleeping on cardboard boxes. Inhabitants from San Francisco say that they got used to it, but it is still difficult for me to see young people sleeping in front of designer stores.
What does your daily work day look like?
I work from 9am-5pm with a 30min lunch break. Usually I leave the hostel together with my roommates and I walk approximately 10 min to our office which is located in the Financial District of San Francisco. Depending on the day, we have morning meetings or vendor presentations. In the first weeks as an intern my main task is sourcing for event locations and getting in contact with vendors for information and pricing. Later in my internship, I help with the organization and planning of events and the costing which we will present the client. In addition, I have the possibility for networking at several on-site events and vendor (hotels, venue locations,…) presentations which take place once a week.
How is the working atmosphere at your internship company?
The atmosphere is open and jokes are our daily companion. As we have an open office – departments are mixed and not separated – it is possible to get to know everyone which also supports the process of planning an event. It is rather a team than a company spirit. On some days, my employer comes to our part of the office and works on an empty table and with the words "I felt alone in my office.", she would shortly explain her decision.
Have you ever been homesick? How did you handle this?
When I was 18 years old I spent a year as Au-Pair in London and therefore, I am used of being away from home and to live in another country than my family. However, missing the family, friends and home is a normal feeling. Whenever I miss them, I either go to my favourite place in the city (which is the pier) and drink a hot chocolate from Starbucks ;-) or if my roommate is not at work, spend the day with her.


Do you feel at home in San Francisco? Why (not)?
San Francisco is my home for 3 months in summer. In my opinion it is important to be open to experience a city as such, otherwise you might rather feel as a tourist or stranger for several months. And a city like San Francisco has so much to offer and wants to be explored and new places discovered.
Is there a typical local dish that you really cannot eat (or really like)?
San Francisco is multi-cultural – in the morning you walk through Chinatown, at noon through Japantown and the afternoon you spend in Latin-American embossed part of the city, called Mission District. With other words: there are many local dishes but from different cultures. San Francisco has definitely something for everyone. The only thing I personal do not like is the combination of chicken and bacon in a sandwich which you can find in many restaurant and shops.


Give us tips on who to become friends with abroad. The Russians? The Irish? The Chilean?
The first advice to find new friends is: Travel alone! Many people do not want to travel by themselves and would never go somewhere without their best friend from kindergarten or High School. Which might seem more difficult for some, is one of the most important experiences on my travels. When you travel alone, and you are rather an extroverted character, it is an opportunity to meet new people and to make new friends. The first and fastest way are your room- or flatmates. At work you will meet new people and start to get to know them better and a friendship might even begin. If you do not like to start a conversation in a bar, in park or in a coffee shop, Facebook is a good way to get in contact with other people. I used a location-based group (e.g. interns in SF), wrote a post that I would to meet new people and if someone is up to go for a coffee.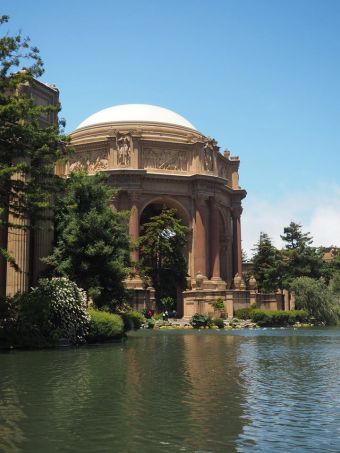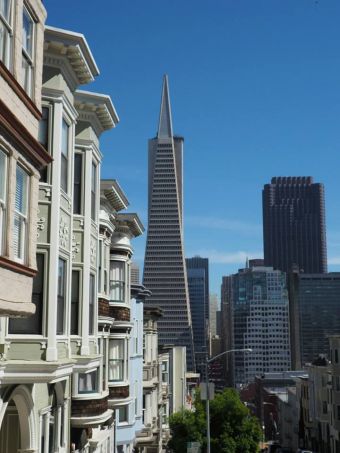 Describe the people of San Francisco in three words.
Open-minded – relaxed – crazy (at least a little bit)
What did you learn from your experience abroad?
You need exact change for the buses in San Francisco, otherwise you will buy a ticket for maybe 20 dollars(!). Summer in California does not always mean hot weather and shorts, and SF is the best example for it. The sun shines but most of the time I wear a jacket and sometimes even a scarf because It is too windy. But nevertheless, a beautiful city with mostly blue skies.